Case Study

Retail Employee Onboarding and Training

User experience design partner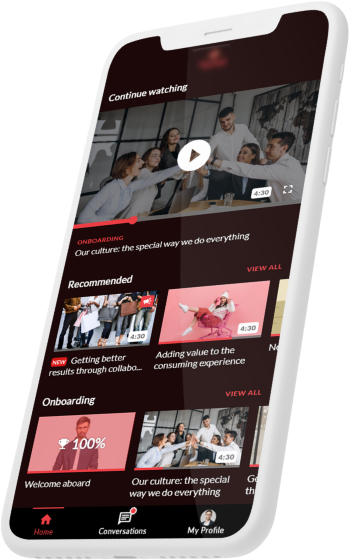 Business Issue
A startup spun-off from an existing online education company serves retailers, enabling them to onboard new employees through custom video training accessed via phone or tablet. The startup had already assessed high-level requirements from interviews with their prospective customers. They approached Planorama to formulate a plan that enabled them to demonstrate the solution and gain buy-in from these prospective customers…long before kicking off software development.
Solution
Planorama worked with the startup client's product manager, creating a plan to begin with rapid design prototypes for the solution for the phone and tablet versions. The combined team reviewed the feedback from prospective customers, and created a feature map (example) of the most desired features to focus on first. Then Planorama product and UI/UX designers thought through key user workflows and created high-fidelity screens that demonstrated the trainees' journey. Throughout the process, we reviewed our work with the client and their development team for feedback. Planorama designers assembled the screens into clickable prototypes giving the client's product team, development team, and stakeholders a clear view of how the application will work from the trainees perspective.
Results
The client saved at least six months and hundreds of thousands of dollars by building the rapid prototypes first to receive feedback from customers and stakeholders. Not only that, but now customers were excited about the upcoming product! With their feedback in hand after delivering the prototypes, the Planorama team subsequently authored all the dev-ready product documentation for the client's development team, and test cases to ensure their quality assurance team could validate the functionality. This process moved along very quickly, thanks to all the assets created during prototyping. The client's product development team could execute efficiently to build mobile phone and tablet MVPs, confident that the user journeys and UX/UI have already been reviewed by prospective customers excited to become paying customers.