Case Study

Artist Collaboration and NFT Marketplace

User experience design partner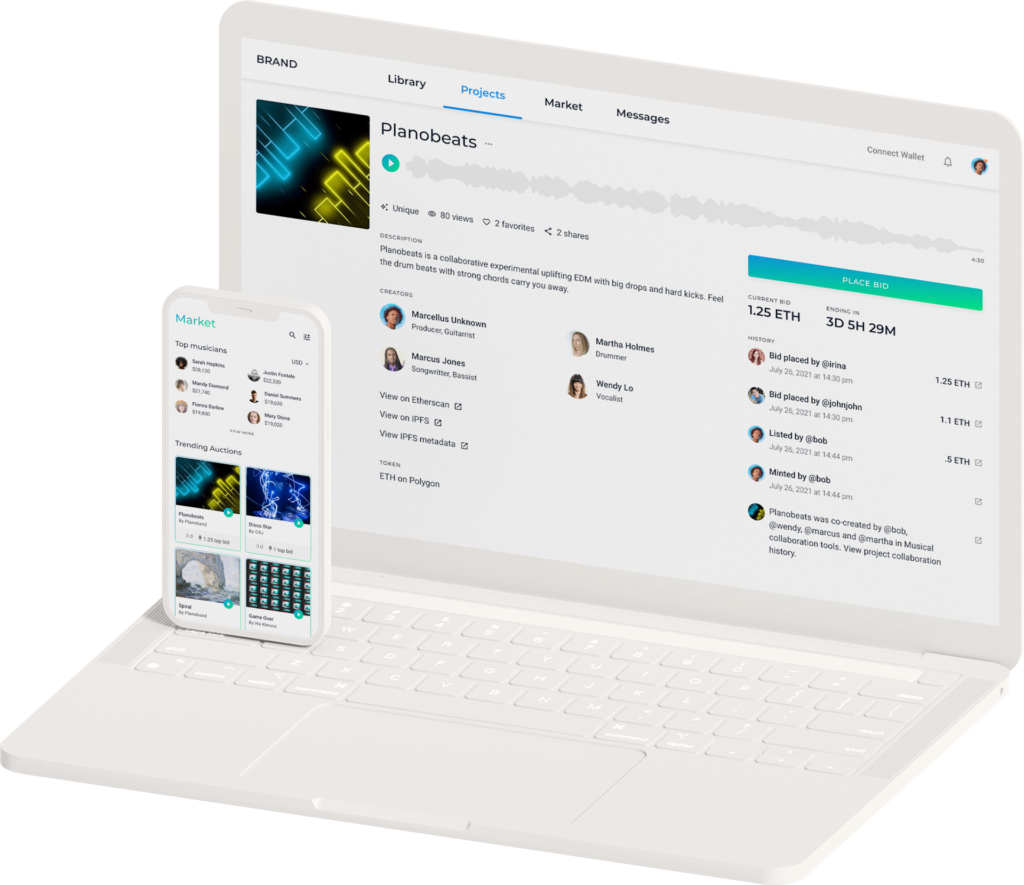 Business Issue
With the explosive growth of cryptocurrencies and the non-fungible token (NFT) space, many businesses are jumping in to capitalize. One company engaged Planorama with the mission to support the collaboration of musical artists and producers, and drive the large majority of revenue back to them in completely transparent engagements. Blockchain enables a decentralized approach, and with smart contracts and token distributions to those involved in a DAO, this company's objective was attainable. Our challenges at Planorama were to:
Solve organizational and collaborative challenges for musical artists and producers
Simplify any underlying complexity of NFTs, DAOs, and tokens for both artists and consumers
Enable the company to achieve the next level of investment funding
Solution
Planorama hosted individual video-interviews with several independent musical artists and producers to understand the first-hand experiences and pain-points of music production today. Through this user research and competitive analysis of existing services, we discovered common personas and their associated challenges to be addressed in the solution. Our team documented these findings, and created a feature map that planned and scoped the features most important to musical artists and producers. NFT creation, including configuration of smart contracts, were designed into platform to help collaborators negotiate royalties and other aspects of their involvement in a project.
Results
By designing the workflows as high-fidelity screens, and then into a clickable prototypes, our client's stakeholders and prospective investors could easily visualize the end solution before development began. As such, they received an excellent reception when showcasing the high-fidelity mobile and web application prototypes to investors. Feedback from many investors was that they never saw a more detailed and well-thought out software design, and it was crystal clear how the final applications would operate. Likewise, several high profile producers and artists clamored for this software, as it solved their challenges to keep the collaborative production process organized and on a forward path to completion. The company received the investment they desired, and development is underway, accelerated by the dev-ready assets produced by Planorama, including pre-built CSS, inspectible designs, and written documentation.