Case Study

Corporate Educational Platform

User experience design partner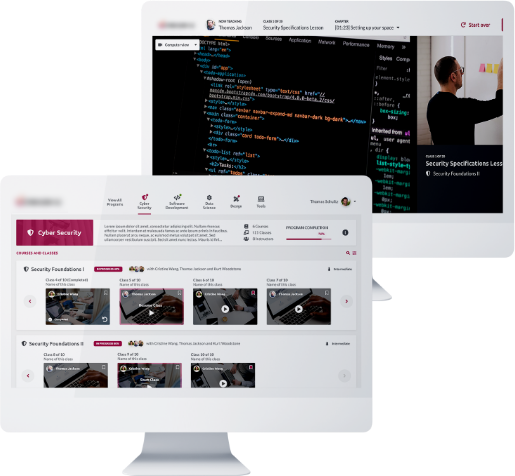 Business Issue
A corporate education B2B company needed to grow its business substantially. Their strategy was to expand via a SaaS learning platform – delivering online training to clients, expanding client employee's workplace skills, and delivering custom product training for client customers. Their strategy needed a plan to navigate design and development.
The client chose Planorama as their strategic product platform design partner for the duration of the project. The SaaS journey requires a detailed plan to deliver a working platform – defect free. A dedicated team of client and Planorama professionals worked the process to:
Scope and prioritize features needed for a multi-phase delivery
Create the UI/UX designs for every feature
Build rapid prototypes to validate key features with customers
Author all the dev-ready product documentation
Manage collaboration with the client's development team
Key Requirements
Planorama and the client's product managers collaborated to define the following key requirements:
Multi-tenanted architecture
Supports private client-only custom learning content while granting access to globally available classes
High-definition video delivery
Class video is always visible, regardless of where the student is on the page
Multi-video immersive class experience
Multiple simultaneous video streams from various camera angles presented to the student
Multiple screen support
Class videos can be pushed to different physical screens
Many user roles
Standard users, system admins, and customer admins, each various feature capabilities
Student assessment
End-of-class and course quizzes enable efficacy measurement
Dashboards
Clients and customer admins should see student engagement and learning progress
Solution
Planorama began by partnering in the traditional product manager role, collaborating with the client to research existing solutions in this space, reviewing feature similarities and differences, and assessing the features specifically desired by our client's customers. Our product team created a feature map and a plan to prioritize features that our client's customers would want most – an MVP. The feature map scoped out all initial user roles necessary, and the capabilities required for each and served as the source of truth during the project.
Then, iterating in two-week Design Sprints, our product design team tackled the highest priority design items from the feature map: designing the information architecture, high-fidelity UI/UX screens and flows, and authoring user story documentation. Working in parallel with the client's development sprints, we partnered to exchange technical feedback at key intervals in the journey. Every design sprint resulted in exactly what the development team required to execute in their sprints.
Results
Within 6 months, the client deployed their phase one software solution for onboarding new SaaS customers – step one in their growth strategy. The Planorama design team continued to work alongside the client's development team to deliver features in subsequent work phases, prioritized according to the client's and customer's needs. As business conditions changed and customer feedback arrived, we worked together to adjust scope and/or priorities. The client continues to lean on Planorama as their trusted product design partner today.